Banff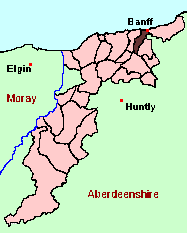 See the Maps Section below for links to a fully-detailed version of this location plan.
"A royal burgh and seaport, the capital of Banffshire, in a parish of its own name. By road it is 1¼ miles WSW of Macduff, 45½ miles NNW of Aberdeen, and 22miles W of Fraserburgh...

The parish of Banff is bounded N for 2¼ miles by the Moray Firth, E and SE by Gamrie and Alvah ... S by Marnoch, and W and NW by Boyndie, and has an extreme length from NE to SW of 6½ miles, an extreme width from E to W of 3 and an eighth miles, and a land area of 6073 acres. The Deveron traces the eastern, the Burn of Boyndie the north-western boundary; and the latter receives two rivulets from the interior, whose surface has a general southward rise, attaining 274 feet at Gallow Hill, 308 near Upper Denhead, 512 at the Hill of Culbirnie, 466 at Ella, 456 near Ord Church, and 573 at the Hill of Ord, on the Alvah border."

- Ordnance Gazetteer of Scotland (1895)
The Memorial Inscriptions in Banff Kirkyard were transcribed over a century ago by William Crammond, and published in "The Annals of Banff", by the New Spalding Club.
Aberdeen And North-East Scotland FHS (ANESFHS) have published a name Index to the 1851 Census for Banffshire. Banff (together with Boyndie and Ordiquhill) is published as code AA213.

ANESFHS also hold unpublished indexes and transcriptions of the 1861 Census for most Banffshire parishes (including Banff).
Kirk of Scotland

OPRs held by the General Register Office, Scotland.


| | | | |
| --- | --- | --- | --- |
| GROS | Baptisms | Marriages | Deaths |
| 147/1 | 1620-1701 | - | |
| 147/2 | 1701-52 | - | |
| 147/3 | 1752-89 | - | |
| 147/4 | 1789-1819 | - | |
| 147/5 | 1752-1820 (affidavits) | - | |
| 147/6 | 1783-88 | 1783-88 | 1783-88 |
| 147/7 | - | 1664-1701 | |
| 147/8 | - | 1718-1819 | 1718-82 |
| 147/9 | 1820-26 | 1820-26 | 1820-54 |
| 147/10 | 1826-47 | 1826-47 | |
| 147/11 | 1847-54 | 1847-54 | |

LDS Film numbers:

| | | |
| --- | --- | --- |
| Baptisms | Marriages | Deaths |
| 6901967(3) | 6901968(2) | 990817/8 |

Batch numbers (for FamilySearch)

Baptisms (C)
Marriages (M)
C111471
C111472
C111473
C111474
M111471
M111472
M111474
M196911

Catholic Church

Copies of the following records for Cullen are held at the National Archives of Scotland with the catalogue numbers shown:

Baptisms (1845-1918), Marriages (1846-1869): RH21/42

Free Kirk

A transcription and index of registers of the Banff Free Kirk (March 1844 - July 1850) are held by Aberdeen And North-East Scotland FHS (ANESFHS)

Kirk Session Records

Kirk Session records generally include records of Discipline, which often include information on illegitimate births, and Accounts, which may mention persons on Poor Relief. The surviving Banff Kirk Session records are listed on a separate webpage.
Banff in 1769
There is a wide range of maps available for Banff, historical and modern, on paper and online. Many ancient placenames continue in use, and will therefore appear on modern maps, but as parishes ceased to be of any significance for Local Government in Scotland in 1974, parish boundaries will be found only on historical maps.

Maps on Paper

The best general-purpose modern printed map is the Ordnance Survey "Landranger" Series, which has a scale of 1:50000 (about one-and-a-quarter inches to a mile). Banff will be found on "Landranger Sheet 29".
Reproductions of late-19th century Ordnance Survey maps are published by Caledonian Maps, and are also available via Family History Societies. Banff will be found on sheet 96.

Maps Online

The small location plan at the head of this page is based on an 1845 map included in the Banffshire volume of the New Statistical Account of Scotland. View a fully-detailed version of this map.
View online versions of Victorian and modern maps
You can view a comprehensive Gazetteer list for the landward part of the parish of Banff including placenames culled from the Ordnance Survey "Explorer" (1:25000) map, the 1896 Ordnance Survey 1" map, the 1841, 1851 and 1861 Census and Thomson's "Atlas of Scotland" (1832).
Under the "Poor Law Amendment Act, Scotland" (1845) responsibility for Poor Relief was taken from the Parishes of the Kirk of Scotland, and vested in new Parochial Boards, whose territories largely coincided with the old parishes. The Parochial Boards were not (as in England) grouped into Poor Law Unions, and there were few Poorhouses outside the cities and large towns.

Day-to-day administration of the Poor Law was in the hands of the Inspector of the Poor for each parish, and these Inspectors were obliged by law to maintain detailed records of applications and of relief supplied. The most valuable of these are the "Record of Applications" and the "General Register of the Poor". The "Minutes" are very variable, but on occasion can also contain information on named individuals.

The following Poor Law records have survived for the Parish of Banff:

These are held by Aberdeen City Archives. The records are available for viewing, subject to the 100-year rule.
According to the New Statistical Account (1836):

| | | | | |
| --- | --- | --- | --- | --- |
| Year | 1801 | 1811 | 1821 | 1831 |
| Population | 3571 | 3603 | 3855 | 3711 |

The writer of the NSA further notes that, in 1831, there were 1229 males and 1706 females living in the town of Banff, while there were 360 males and 416 females in the country part of the parish.

According to the Ordnance Gazetteer of Scotland (1895):

| | | | | | | | | |
| --- | --- | --- | --- | --- | --- | --- | --- | --- |
| Year | 1801 | 1821 | 1841 | 1851 | 1861 | 1871 | 1881 | 1891 |
| Population | 3572 | 3855 | 3958 | 4426 | 4673 | 5015 | 5252 | 4763 |
---
If you have found any errors or omissions, or have any suggestions about this page, please use the feedback form
Last updated: 10 Jun 2004 - Gavin Bell