Bellie (Banffshire)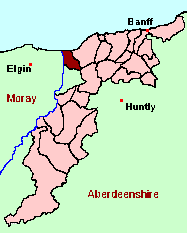 See the Maps Section below for links to a fully-detailed version of this location plan.
In modern usage, Bellie is considered to belong exclusively to the County of Moray, and the principal article on the parish will be found on the Moray pages of GENUKI. However, before 1891, the parish was partly in Banffshire. See the "Historical Geography" section below for an explanation.
The parish of Bellie has a convoluted history. It was long divided between the counties of Moray and Banff, but to complicate matters further, in 1835, it and Rathven (its Banffshire neighbour to the east) were, in effect, colonised by the new "quoad sacra" parish of Enzie (which belonged to Banffshire). Enzie had its own OPRs from 1835, became a civil Registration District in 1855 and has its own Enumeration Districts (as part of Banffshire) in the Census from 1861 onwards. At the time of the great reform of parish and county boundaries in 1891, Enzie is not mentioned, but that part of its territory which originally belonged to the Banffshire part of Bellie was transferred to the County of Moray - but Enzie continued in existence, within its existing boundaries, as a Registration District, and with its own Census EDs until 1936! If you think this does not make much sense, then join the Club.

To complicate matters further, it appears (from an analysis of Census placenames) that the boundary between Bellie (BAN) and Bellie (MOR) was not the same as the boundary between Bellie and Enzie - but this cannot be totally verified, as no map showing the administrative boundaries of Enzie has so far come to light.

Against this background, it is difficult to give hard and fast advice as to the genealogical implications. The best recommendation is probably that, if you have ancestors belonging to any of the places listed below under "Names, Geographical", you should be prepared to search for them in the records for both Moray and Banffshire, and in the parishes of Bellie, Enzie and Rathven.
There is a wide range of maps available for Bellie, historical and modern, on paper and online. Many ancient placenames continue in use, and will therefore appear on modern maps, but as parishes ceased to be of any significance for Local Government in Scotland in 1976, parish boundaries will be found only on historical maps.

Maps on Paper

The best general-purpose modern printed map is the Ordnance Survey "Landranger" Series, which has a scale of 1:50000 (about one-and-a-quarter inches to a mile). Bellie will be found on "Landranger Sheet 28".
Reproductions of late-19th century Ordnance Survey maps are published by Caledonian Maps, and are also available via Family History Societies. Bellie will be found on sheet 95. Note, however, that as Caledonian Maps' reproductions are based on map sheets published in 1896, they show the boundaries as revised in 1891.

Maps Online

The small location plan at the head of this page is based on an 1845 map included in the Banffshire volume of the New Statistical Account of Scotland. View a fully-detailed version of this map.
View online versions of Victorian and modern maps
You can view a comprehensive Gazetteer list for Bellie including placenames culled from the 1896 Ordnance Survey 1" map, from the 1841, 1851, 1861, 1871 and 1881 Census and Thomson's "Atlas of Scotland" (1832).
---
If you have found any errors or omissions, or have any suggestions about this page, please use the feedback form

[Last updated: 30 Oct 2006, Gavin Bell]