Enzie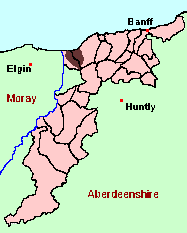 See the Maps Section below for links to a fully-detailed version of this location plan.
"A hamlet, a quoad sacra parish and a district in the NW of Banffshire. The hamlet lies 3¼ miles ENE of Fochabers, under which it has a post office. The quoad sacra parish, containing also the village of Port Gordon, comprises the eastern part of Bellie parish, and the western part of Rathven...

The parochial church was built in 1785, and, as enlarged in 1815 and 1822, contains 400 sittings. There is also a Free Church...

The district extends from the river Spey to Buckie Burn, but is popularly regarded as comprising all Bellie and Rathven parishes."

from: The Ordnance Gazetteer of Scotland (1883)

As the above extract shows, there was some doubt as to what precise area belonged to Enzie parish. For an account of the evidence, and its significance for genealogy, see below, under Historical Geography.
In the 1841 Census, Portgordon, and the areas to the south and east, are included in Banffshire, and are described as "Part of Rathven", where they appear as Enumeration Districts 1-4. The area to the southeast of Portgordon was assigned to Bellie, in Moray, but seems to have confused the Enumerators. ED4 and ED5 of Bellie between them completely cover that part of Enzie, but there is also an ED6, which is described as "So much of the quoad sacra parish of Enzie as lies in the parish of Bellie ..." , but which turns out to be a slightly truncated duplicate of ED5! Aberdeen And North-East Scotland FHS (ANESFHS) hold an unpublished transcription and index of the Banffshire parts of Enzie for 1841.

In 1851, Enzie is divided between Banffshire (as Rathven EDs 9 -12) and Moray (Bellie, District of Enzie, EDs 1 & 2). Aberdeen And North-East Scotland FHS (ANESFHS) publish a name index to the 1851 Census for Banffshire. Rathven is published as AA215, and includes the Banffshire parts of Enzie.

In 1861, 1871, 1881, 1891 & 1901, the whole of Enzie is enumerated as part of Banffshire.
Kirk of Scotland
OPRs held by the General Register Office, Scotland.


| | | | |
| --- | --- | --- | --- |
| GROS | Baptism | Marriage | Death |
| 152/1 | 1815-1854 | 1836-1854 | - |

LDS Film numbers:

Baptisms
Marriages
Deaths
6901759
6901977
6901760
6901978
-
-

Batch numbers (for FamilySearch)

| | |
| --- | --- |
| Baptisms (C) | Marriages (M) |
| C111522 | M111522 |

Free Kirk

The following registers of the Free Kirk congregation are held at Moray Archives, Grant Lodge, Cooper Park, Elgin, and on microfilm by the National Archives of Scotland with the catalogue number shown:

Kirk Session Records

Kirk Session records generally include records of Discipline, which often include information on illegitimate births, and Accounts, which may mention persons on Poor Relief. The surviving Enzie Kirk Session records are listed on a separate webpage.

Catholic Records

Writing in the 1790s, the Minister of Rathven, describing the District of Enzie (not then a full-blown quoad sacra parish, but the site of a Chapel of Ease dependent on the Kirk of Rathven), gives the religious population of the district as: 300 Presbyterians, 72 Episcopalians, and 630 Roman Catholics. The following records are held at the National Archives of Scotland with the catalogue numbers shown:

Baptisms 1787-1968; Marriages 1805-1969; Deaths 1794-1829: (RH 21/31)
Portgordon in 1842: shipping and fishing.
"Enzie" is an ancient name for the area covering the western part of Rathven Parish, and the eastern part of Bellie, but its significance for genealogical purposes, and its boundaries, are hard to pin down. A "Chapel of Ease" was built there in 1785, and was made an official quoad sacra parish in 1851. Normally, the congregation of such a "Chapel of Ease" will continue to register its baptisms and marriages with the "mother church" of the parish. However, starting around 1835, Enzie maintained separate registers. See above under Church Records.

With the start of Civil Registration in 1855, Enzie became a Registration District, and remained one until 1936. Registration Districts were normally also taken as the basis for Enumeration Districts in the Census. In consequence, Enzie has appeared in different places for Census purposes. See above, under Census.

In 1889, the "Local Government (Scotland) Act" set up a Boundary Commission to rationalise the many oddities which had sprung up in the boundaries of parishes and counties. As part of this tidying up, which took effect in 1891, that part of the quoad sacra parish of Enzie which coincided with the Banffshire portion of Bellie was confirmed as part of Bellie and transferred to Moray. The Commission's report does not mention the name. But despite this, Enzie continued in existence (with the same boundaries) as both a Registration District and as a distinct district of Banffshire for Census purposes until 1936.
There is a wide range of maps available which cover the area occupied by Enzie, historical and modern, on paper and online. Many ancient placenames continue in use, and will therefore appear on modern maps, but up till now, I have not been able to identify any map, ancient or modern, which shows the boundaries of Enzie (although these can be fairly reliably deduced by study of the Enzie Census Enumerations).

Maps on Paper

The best general-purpose modern printed map is the Ordnance Survey "Landranger" Series, which has a scale of 1:50000 (about one-and-a-quarter inches to a mile). Enzie will be found on "Landranger Sheet 28".
Reproductions of late-19th century Ordnance Survey maps are published by Caledonian Maps, and are also available via Family History Societies. The area occupied by Enzie will be found on sheet 95.

Maps Online

The small location plan at the head of this page is based on an 1845 map included in the Banffshire volume of the New Statistical Account of Scotland. View a fully-detailed version of this map.
View online versions of Victorian and modern maps
You can view a comprehensive Gazetteer list for Enzie including placenames culled from the 1887 Ordnance Survey 1" map, from the 1841, 1851, 1861 and 1881 Census and Thomson's "Atlas of Scotland" (1832).
Under the "Poor Law Amendment Act, Scotland" (1845) responsibility for Poor Relief was taken from the Parishes of the Kirk of Scotland, and vested in new Parochial Boards, whose territories largely coincided with the old parishes. The Parochial Boards were not (as in England) grouped into Poor Law Unions, and there were few Poorhouses outside the cities and large towns.

Day-to-day administration of the Poor Law was in the hands of the Inspector of the Poor for each parish, and these Inspectors were obliged by law to maintain detailed records of applications and of relief supplied. The most valuable of these are the "Record of Applications" and the "General Register of the Poor". The "Minutes" are very variable, but on occasion can also contain information on named individuals.

Despite being both a Quoad Sacra parish and a Registration District, Enzie does not appear to have had its own Inspector of the Poor. Some applications from the western end of Enzie appear in the records for Bellie (Moray).

The following Poor Law records have survived for the Parish of Bellie (Moray):

General Register of the Poor 1845-1921
Record of Applications 1898-1915
Minutes

These are held by Aberdeen City Archives. The records are available for viewing, subject to the 100-year rule.
Items marked * are included in a name index compiled by Aberdeen And North-East Scotland FHS (ANESFHS), and held by both ANESFHS and Aberdeen City Archives.

Applicants from the eastern part of Enzie would have presumably have been recorded under Rathven, but most of the Poor Law records for Rathven have disappeared.
According to the Ordnance Gazetteer of Scotland

| | | | |
| --- | --- | --- | --- |
| Year | 1871 | 1881 | 1891 |
| Population | 2251 | 2413 | 2460 |
---
If you have found any errors or omissions, or have any suggestions about this page, please use the feedback form

[Last updated: 26 Nov 2006, Gavin Bell]