Marnoch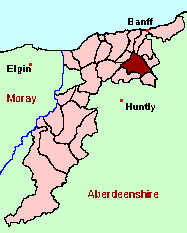 See the Maps Section below for links to a fully-detailed version of this location plan.
"Abercherder was the old name of this country and parish, which is now called Marnoch, the church being dedicated to St. Marnoch. This parish lies in the county of Banff, presbytery of Strathbogie, and synod of Moray. It is from nine to ten measures miles in length, and from four to five in breadth. In general it is rather flat, low-lying land, being mostly surrounded with hills upon the west, north, and east, which are covered with heath. The river Doveron, which is not navigable, runs from five to six miles along the south side of the parish. The soil near the banks of the river, is a rich loam, and produces good crops. Toward the upper part of the country, it is wet, stoney, and stiff. The crop consists of barley, oats, pease, potatoes, and turnips. A very large quantity is annually exported from Banff, Portsoy, or McDuff. The best arable and meadow ground rents per acre from 15 s. to 20 s.; the rent of inferior from 6 s. 8d. to 2 s. 6 d. The parish is fully provided with good peats. Considerable numbers of cattle are reared yearly and sold, and likewise a large quantity of butter and cheese." From The Statistical Account for Scotland, 1791-1799 Volume XVI, Banffshire, Moray & Nairnshire.
Two booklets of Monumental Inscriptions for Marnoch have been published by Aberdeen And North-East Scotland FHS (ANESFHS):

Marnoch (Booklet AA160).
Marnoch Part 2 (Booklet AA168)

These are included in the Online Index to the MIs
Aberdeen And North-East Scotland FHS (ANESFHS) have published a name Index to the 1851 Census for Banffshire. Marnoch(together with Forglen, Inverkeithny and Rothiemay) is published as code AA211.

ANESFHS also hold unpublished indexes and transcriptions of the 1861 Census for most Banffshire parishes (including Marnoch).
Kirk of Scotland

OPR dates: Baptisms 1676-1854, Marriages 1672-1854, Burials 1713-1818, 1822-1832.
LDS Film number - 0990988.
Batch numbers (for familysearch) - C or M 111612.

Free Kirk

The following registers of the Marnoch Free Kirk congregation are held at the National Archives of Scotland with the catalogue numbers shown:

B: 1843-1851; M: 1843-1850 (CH3/1492/28)
B: 1871-1911 (CH3/1492/29)

Kirk Session Records

Kirk Session records generally include records of Discipline, which often include information on illegitimate births, and Accounts, which may mention persons on Poor Relief. The surviving Marnoch Kirk Session records are listed on a separate webpage.
A transcript of Parish of Marnoch, (County of Banff.) by the Rev. Mr. James Innes.
The parish does not appear to have been subject to any boundary changes, but there is one significant naming oddity. At some earlier date (sources are silent on precisely when) the parish was known as Aberchirder. That name is now officially applied to the principal village in the parish - which is known locally (although not recorded on any maps) as "Foggieloan", supposedly after a farm which formerly stood on the site.
There is a wide range of maps available for Marnoch, historical and modern, on paper and online. Many ancient placenames continue in use, and will therefore appear on modern maps, but as parishes ceased to be of any significance for Local Government in Scotland in 1976, parish boundaries will be found only on historical maps.

Maps on Paper

The best general-purpose modern printed map is the Ordnance Survey "Landranger" Series, which has a scale of 1:50000 (about one-and-a-quarter inches to a mile). Marnoch will be found on "Landranger Sheet 29".
Reproductions of late-19th century Ordnance Survey maps are published by Caledonian Maps, and are also available via Family History Societies. Marnoch will be found on sheets 96.

Maps Online

The small location plan at the head of this page is based on an 1845 map included in the Banffshire volume of the New Statistical Account of Scotland. View a fully-detailed version of this map.
View online versions of Victorian and modern maps

You can view a comprehensive Gazetteer list for Marnochincluding placenames culled from the Ordnance Survey "Explorer" (1:25000) map, the 1896 Ordnance Survey 1" map, the 1841, 1851 and 1861 Census and Thomson's "Atlas of Scotland" (1832).
You can view a comprehensive Gazetteer list for Marnochincluding placenames culled from the Ordnance Survey "Explorer" (1:25000) map, the 1896 Ordnance Survey 1" map, the 1841, 1851 and 1861 Census and Thomson's "Atlas of Scotland" (1832).
Under the "Poor Law Amendment Act, Scotland" (1845) responsibility for Poor Relief was taken from the Parishes of the Kirk of Scotland, and vested in new Parochial Boards, whose territories largely coincided with the old parishes. The Parochial Boards were not (as in England) grouped into Poor Law Unions, and there were few Poorhouses outside the cities and large towns.

Day-to-day administration of the Poor Law was in the hands of the Inspector of the Poor for each parish, and these Inspectors were obliged by law to maintain detailed records of applications and of relief supplied. The most valuable of these are the "Record of Applications" and the "General Register of the Poor". The "Minutes" are very variable, but on occasion can also contain information on named individuals.

The following Poor Law records have survived for the Parish of Marnoch:

General Register of the Poor 1879-1932
Record of Applications 1892-1914
Childrens' Separate Register 1914-1928
Minutes

These are held by Aberdeen City Archives. The records are available for viewing, subject to the 100-year rule.
Items marked * are included in a name index compiled by Aberdeen And North-East Scotland FHS (ANESFHS), and held by both ANESFHS and Aberdeen City Archives.
| | | | | | | | |
| --- | --- | --- | --- | --- | --- | --- | --- |
| Year | 1801 | 1811 | 1821 | 1831 | 1841 | 1851 | 1861 |
| Population | 1687 | 2018 | 2210 | 2426 | 2691 | 2994 | 3289 |

| | | | | | | | |
| --- | --- | --- | --- | --- | --- | --- | --- |
| Year | 1871 | 1881 | 1891 | 1901 | 1911 | 1921 | 1931 |
| Population | 3294 | 3230 | 3006 | 2851 | 2532 | 2312 | 2087 |
---
Page originally created by GordonTroup.
Last updated: 25 Feb 2006 - Gavin Bell
If you have found any errors or omissions, or have any suggestions about this page, please use the feedback form