Mortlach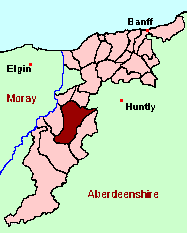 See the Maps Section below for links to a fully-detailed version of this location plan.
"The form of the parish is irregular, and not easily described, so as to be understood. ... Its greatest length from the head of Glenrinnes to the opposite end near the Spey, that is, from south to north, is eleven or twelve English miles; and its greatest breadth from the banks of the Doveran to the foot of Benrinnes, that is, from east to west, may be about as much. ...

The appearance of the country is very fine. Variegated with hill and dale, wood and water, growing corns and pasture covered with flocks, it looks both beautiful and rich. And even in winter, the trees skirting the river banks with their snowy foliage, and the lofty mountains all in white, exhibit a diversity of view abundantly pleasing and grotesque."

(Contributed ca. 1790 by the Rev. George Gordon, Minister of Mortlach,
to The Statistical Account of Scotland)
Aberdeen And North-East Scotland FHS (ANESFHS) have published a name Index to the 1851 Census for Banffshire. Mortlach (together with Aberlour and Cabrach) is published as code AA217.

ANESFHS also hold unpublished indexes and transcriptions of the 1861 Census for most Banffshire parishes (including Mortlach).
Kirk of Scotland

OPRs held by the General Register Office, Scotland.


| | | | |
| --- | --- | --- | --- |
| GROS | Baptism | Marriage | Death |
| 162/1 | 1741-1819 | &nbsp | &nbsp |
| 162/2 | &nbsp | 1741-1819 | &nbsp |
| 162/3 | 1820-54 | 1820-54 | &nbsp |

LDS Film numbers:

| | | |
| --- | --- | --- |
| Baptisms | Marriages | Deaths |
| 6902581(2) | 6902582 | &nbsp |

Batch numbers (for FamilySearch)

Baptisms (C)
Marriages (M)
C111622
C111624
M111622
M111624

Kirk Session Records

Kirk Session records generally include records of Discipline, which often include information on illegitimate births, and Accounts, which may mention persons on Poor Relief. The surviving Mortlach Kirk Session records are listed on a separate webpage.
There is a wide range of maps available for Mortlach, historical and modern, on paper and online. Many ancient placenames continue in use, and will therefore appear on modern maps, but as parishes ceased to be of any significance for Local Government in Scotland in 1974, parish boundaries will be found only on historical maps.

Maps on Paper

The best general-purpose modern printed map is the Ordnance Survey "Landranger" Series, which has a scale of 1:50000 (about one-and-a-quarter inches to a mile). Mortlach will be found on "Landranger Sheets 28 and 37".
Reproductions of late-19th century Ordnance Survey maps (the 1896 Second Edition) are published by Caledonian Maps, and are also available via Family History Societies. Mortlach will be found on sheets 75 and 85.

Maps Online

The small location plan at the head of this page is based on an 1845 map included in the Banffshire volume of the New Statistical Account of Scotland. View a fully-detailed version of this map.
View online versions of Victorian and modern maps
You can view a comprehensive Gazetteer list for Mortlach including placenames culled from the current Ordnance Survey "Explorer" (1:25000) and "Landranger" (1:50000) maps, the 1887 Ordnance Survey 1" map, the 1841, 1851 and 1881 Census and Thomson's "Atlas of Scotland" (1832).
Under the "Poor Law Amendment Act, Scotland" (1845) responsibility for Poor Relief was taken from the Parishes of the Kirk of Scotland, and vested in new Parochial Boards, whose territories largely coincided with the old parishes. The Parochial Boards were not (as in England) grouped into Poor Law Unions, and there were few Poorhouses outside the cities and large towns.

Day-to-day administration of the Poor Law was in the hands of the Inspector of the Poor for each parish, and these Inspectors were obliged by law to maintain detailed records of applications and of relief supplied. The most valuable of these are the "Record of Applications" and the "General Register of the Poor". The "Minutes" are very variable, but on occasion can also contain information on named individuals.

The following Poor Law records have survived for the Parish of Mortlach:

*General Register of the Poor 1845-1903 (BC 6/19/9)
*Record of Applications 1857-1879 (BC 6/19/10)
*Record of Applications 1874-1905 (BC 6/19/11)
*Record of Applications 1879-1893 (BC 6/19/12)
*Record of Applications 1894-1906 (BC 6/19/13)
*Record of Applications 1906-1917 (BC 6/19/14)
*Record of Applications 1917-1930 (BC 6/19/15)
Minutes

These are held by Aberdeen City Archives. The records are available for viewing, subject to the 100-year rule.
Items marked * are included in a name index compiled by Aberdeen And North-East Scotland FHS (ANESFHS), and held by both ANESFHS and Aberdeen City Archives.
according to Ordnance Gazetteer of Scotland (1895):


| | | | | | | |
| --- | --- | --- | --- | --- | --- | --- |
| Year | 1801 | 1831 | 1861 | 1871 | 1881 | 1891 |
| Population | 1876 | 2633 | 3095 | 3059 | 2934 | 3035 |
---
If you have found any errors or omissions, or have any suggestions about this page, please use the feedback form

[Last updated: 22 Jan 2012, Gavin Bell]